Automatic Login with Google Chrome
Are you unable to automatically log in to your Symbaloo through Chrome? Follow these steps in order to set up your automatic login:

Open up Google Chrome, go to Settings> Privacy and Security> Cookies and other site data> Allow All Cookies.
Make sure that the option "Allow All Cookies " is selected.
Make sure the "Block third-party cookies and site data" option is turned off.
Make sure that under "Sites that can never use cookies" Symbaloo is not added to that list.
Now, go to Welcome to Symbaloo and login into your account. Close your Chrome browser and start it back up.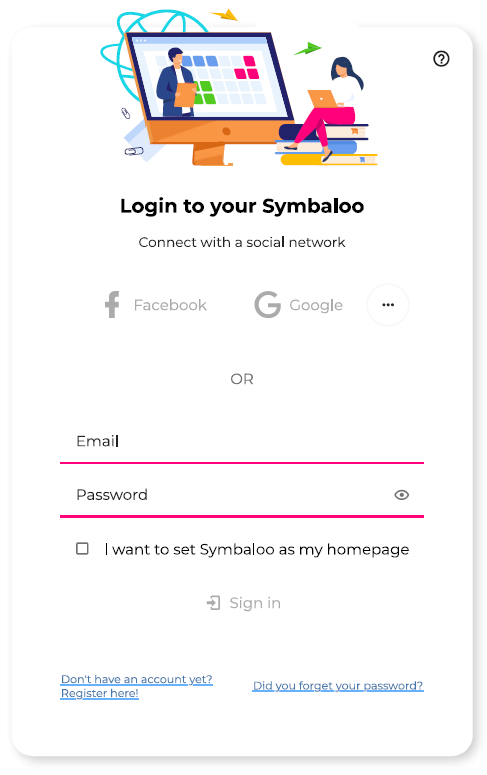 You should now be automatically logged in. If this is not the case, please contact us.
Related Articles

Automatic Login With Safari

Has Safari managed to log you out of your Symbaloo account? Please follow the steps below to set up automatic login with Safari: In Safari, go to Preferences> Privacy and remove Symbaloo from the list of information from cookies and other site data ...

How to change the center box widget

Can I change the Google Search Box to something else? Yes! We offer a handful of options to update and change your current center widget. What are my center box options? We offer various widgets and search engine options. Some of the search engines ...

Can I remove the Google Widget from my Webmix?

Unfortunately, you cannot remove the Webmix center box, however, you can swap the Google widget for another search engine, Widget, or newsfeed by going into your account preferences by following this path Home > Settings > Preferences Watch the ...

Forgot your password?

Have you lost your password? It only takes a few easy steps to reset your password and regain access to your account. Please check the information below to learn how to reset your password: First, click on the message that says: "Did you forget your ...

Tiles lost or have to log in again & again

Did you lose your Tiles? To ensure that your tiles are kept safe, you will need a Symbaloo account. Please create an account if you have not done so already. Then your tiles will never be lost! Do you need to log in to Symbaloo every time?  You ...