Can I add the link to the Webmix on class website or blog?
You can add the link to your Webmix on your website or blog. Share your Webmix and grab the URL (e.g., http://www.symbaloo.com/mix/tuesdaytutorial) from the Webmix Details. 


But we have something even better. You can embed your Webmix directly on to your site so that the students can just access the resources directly from your class site. You can create separate pages on your site for each grade and embed the Webmix for each on the different pages.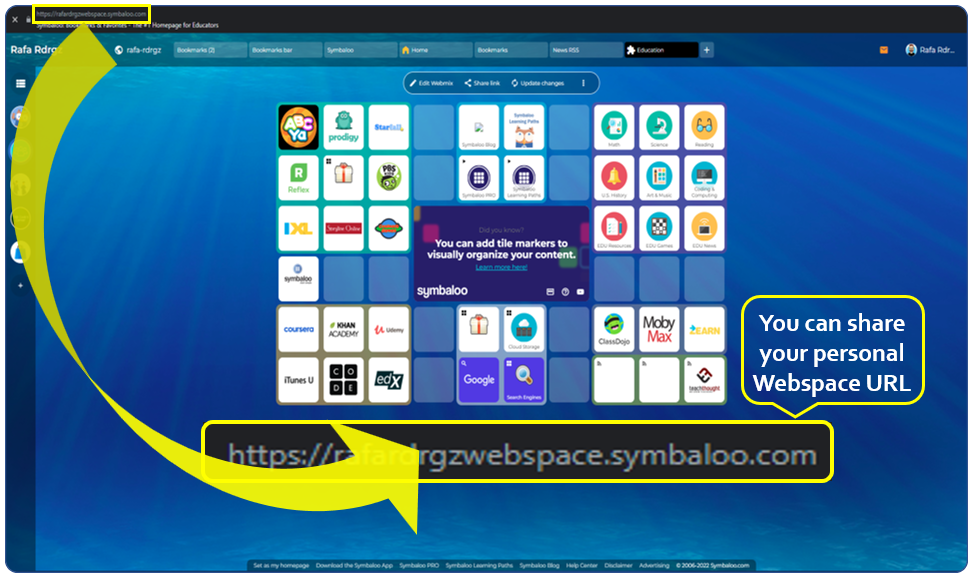 Related Articles

Embedding instead of sharing the link

If you have shared the links of your Webmixes with your students, then those links will always take you to a page where you will have to add the Webmix to see the content. However, there are two ways that you can get around this! 1) Signing up for ...

How to copy a Webmix

Step 1: Start by sharing your Webmix publicly To learn how to share a Webmix, please click here. Step 2: Copy the Webmix share link (seen below) and paste it into a new browser tab: Step 3: On the Webmix preview page, click the "Add this Webmix" ...

How do I find and add widgets to my webmix?

To add a new Widget, go into your account preferences and click the "other options" link to search our available options. You can also search for and find a Webmix of Widgets such as the one here: http://edu.symbaloo.com/mix/widgets Home > Settings ...

How do I add a collaborator on a Webmix?

Adding a collaborator on a Webmix is easy to do. To add a collaborator, click the Three Dots next to the Edit Webmix, Share Link and Update Changes buttons at the top of the page while viewing the Webmix in your Webspace. Next, click the button ...

How do I embed my Symbaloo Webmix into my blog or wiki?

Embedding a Webmix means inserting a Webmix into your own website or blog. Please watch the following video to learn how to embed your Webmix: