Enabling/Disabling Cookies in Microsoft Edge
Do you keep having to log in to your account each time you visit Symbaloo? Follow the steps below in order to set up automatic login with Microsoft Edge:

Open the Microsoft Edge browser.
Click on the "Settings and More" (The three dots in the upper right-hand corner) And select "Settings".
Scroll down the settings list and click on the "Cookies and Site Permissions" button.
Under Cookies and data stored, select the "Manage and Delete Cookies and Site Data" option.

Make sure that the "Allow sites to save and read cookie data (recommended)" is ON


edge://settings/content/cookies

(you can copy and paste this link in your Edge browser)

Lastly, just make sure that Symbaloo's Website is NOT added to this list:

Block
You've prevented the following sites from saving and reading cookies on your device.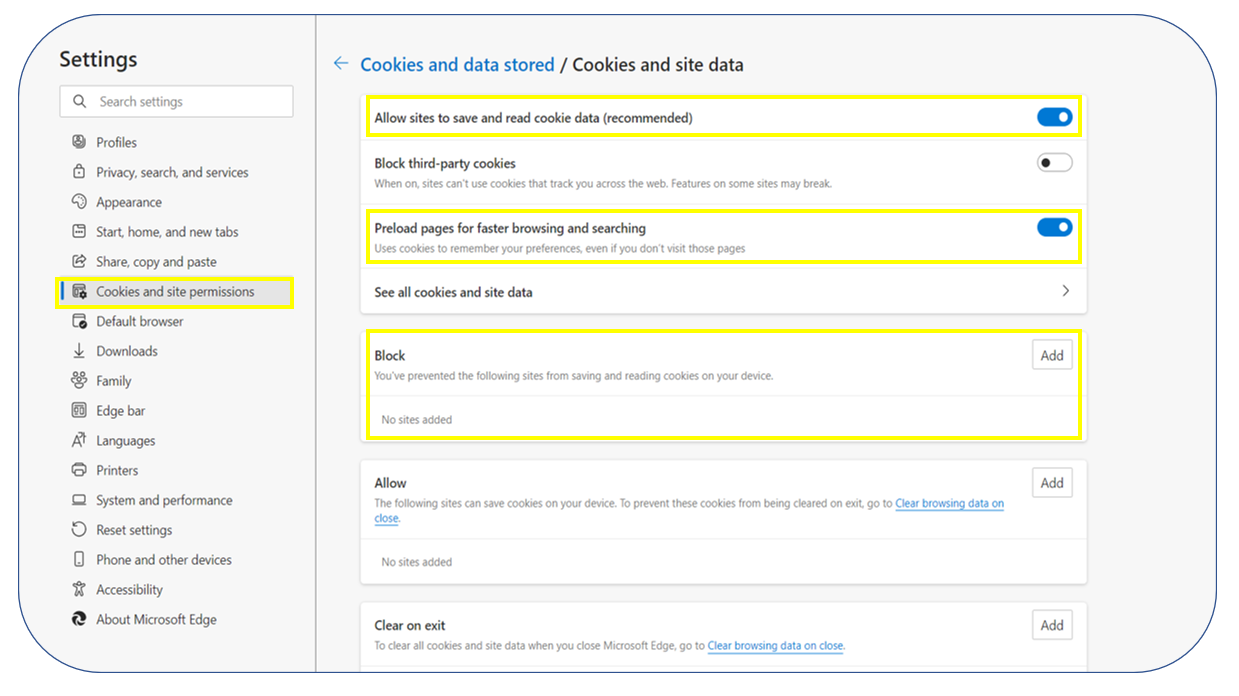 Related Articles

Having to log in constantly?

If your computer doesn't remember your password after choosing the save your logins option (offered by your browser), there are a few settings you should change. You have a choice in whether or not to save cookies, these are small files containing ...

Tiles lost or have to log in again & again

Did you lose your tiles? To ensure that your tiles are kept safe, you will need a Symbaloo account. Please create an account if you have not done so already. Then your tiles will never be lost! The automatic login function, checked in the image ...

Tiles not working?

Try these steps to solve your problem:- update browser to latest version - do a hard refresh on your browser (Mac: Command+Shift+R ; PC: Control+F5) - enable Java Script - clear cookies and cache - remove pop-up blocker - try disabling plug-ins while ...

Tiles Won't Work

If your tiles are not functioning properly or you are constantly needing to refresh your browser, we recommend you try the steps listed below: - First test Symbaloo in a different browser or computer - Update your browser to the latest version (Refer ...

Live chat does not receive messages

If your live chat feature is not receiving messages from your students or vice versa, try disabling add-ons in your browser, like Grammarly. This will reenable the chat function.