How do I add a collaborator on a Webmix? (PRO Users only)
Adding a collaborator on a Webmix is easy to do.
To add a collaborator, click the

Three Dots next to the

Edit Webmix, Share Link and Update Changes buttons

at the top of the page while viewing the Webmix in your Webspace.




Next, click the button to

Invite a Collaborator

.

Enter a name and e-mail address to invite a Collaborator. Edits made by you or your Collaborator(s) are shown in real-time. However, you may still need to 'Publish' your Webmix to make the changes visible in your public workspace.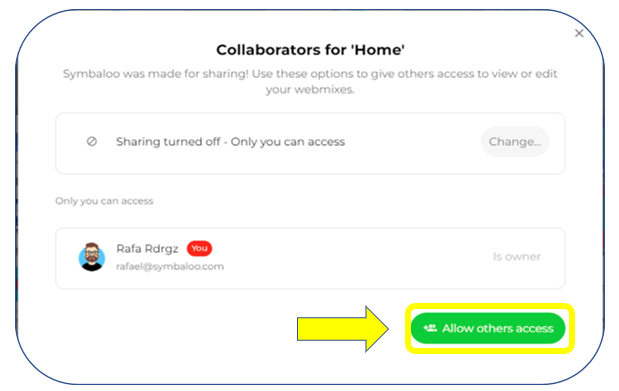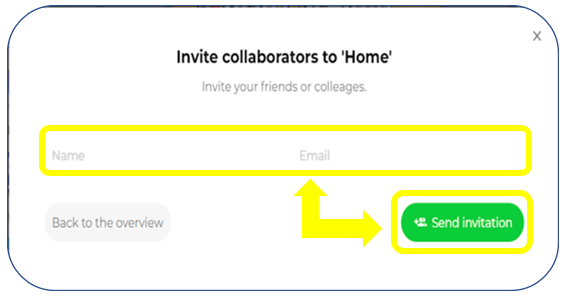 Watch the following video on how to add and collaborate on a webmix:
Related Articles

Symbaloo vs. Symbaloo PRO

Symbaloo offers two free options: a regular personal account and a Symbaloo PRO (ad-supported) Webspace. A regular personal account allows you to create and manage an unlimited number of Webmixes and Tiles. With the regular version, you'll be able to ...

What are the differences between the Symbaloo PRO subscriptions?

Symbaloo PRO Sponsored - Free for all educators and supported by advertisements from sponsors. Users are automatically assigned their Webspace domain. Symbaloo PRO for Teachers ($59.00/yr) - Ad-free, includes a custom Webspace domain, and unlocks the ...

What are the different types of users within a Symbaloo PRO account?

Administrator - Has access to manage settings, users, groups, and more within the assigned Webkspace. Collaborator (single Webmix access) - A user that has been granted access to edit a single Webmix. Updates appear in real-time. (Re-Publishing is ...

Differentiating Workspaces: My Symbaloo vs. my PRO Webspace

Finding "My Symbaloo" On the left side of the page, click on the notebook icon (depicted below) to access your Webmix menu: Upon opening your Webmix menu, you will see all the Webmixes in your "My Symbaloo". Clicking on any of these will direct you ...

How to Manage PRO Users

In the user section of your PRO account, you can see every person who is signed up for an account under your domain. Here you can check the webmixes your users created, see if they are verified, and find information about when they've joined. Adding ...