How to change the center box in your Webspace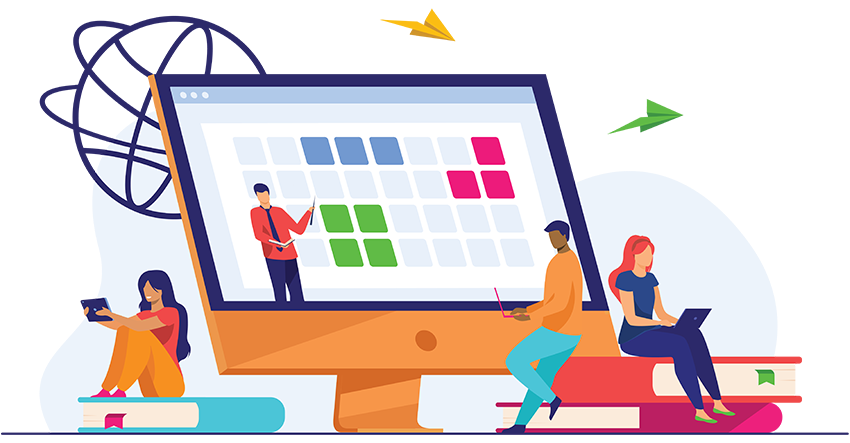 Begin by clicking on the Webspace you want to modify; your Webspace will be on the left.
Once you have clicked on your Webspace icon, you will see the Webmixes in your workspace. Near the bottom, you will see an option for Webspace Dashboard (as illustrated below)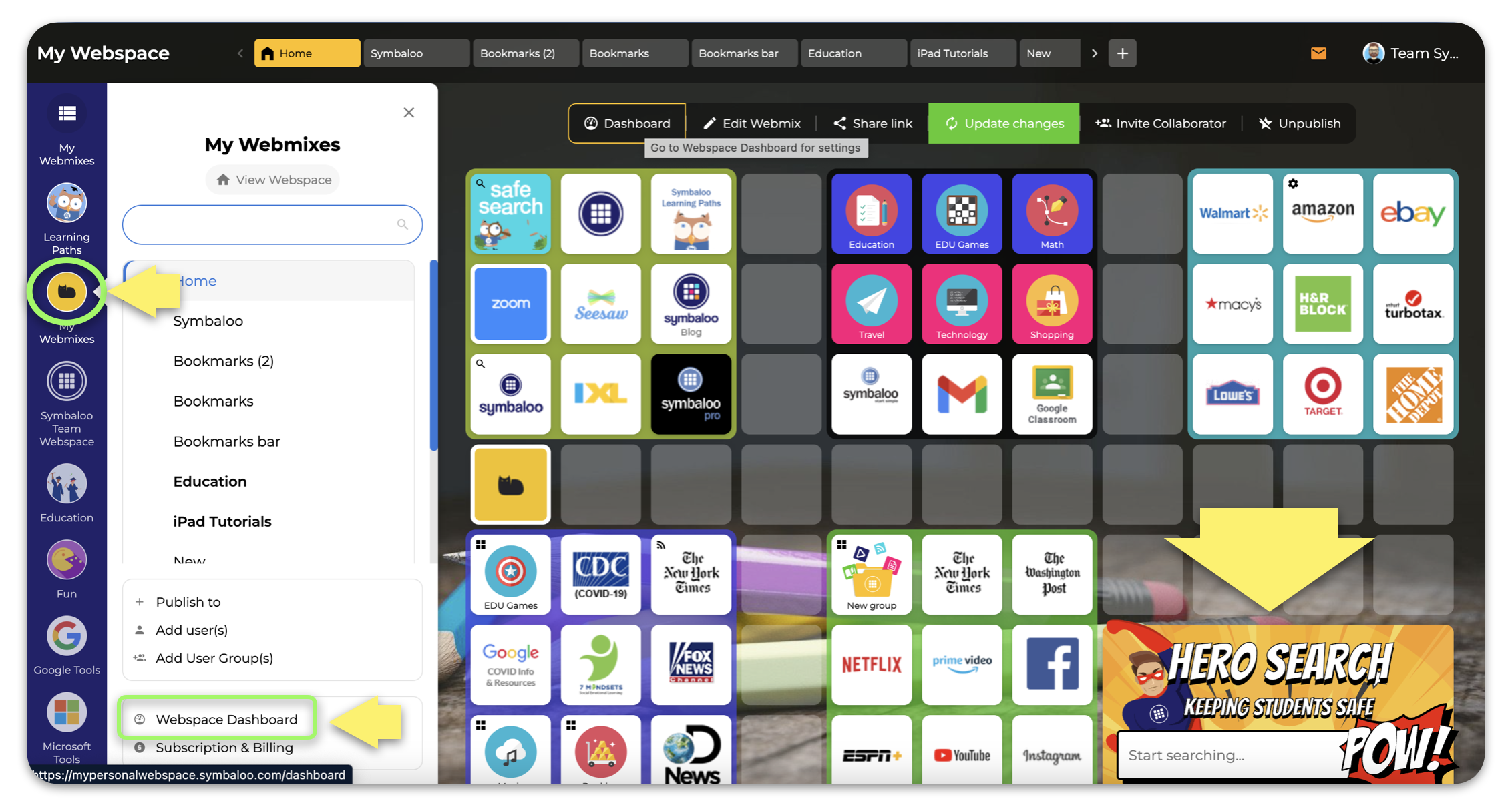 Next, you will see the Webspace Dashboard page. Near the middle of the page, you should see an area showing you what you currently have set for your workspace center box (see below). Please choose from one of the options. Once you have done so, please click the green "save" button, and your workspace center box will be updated!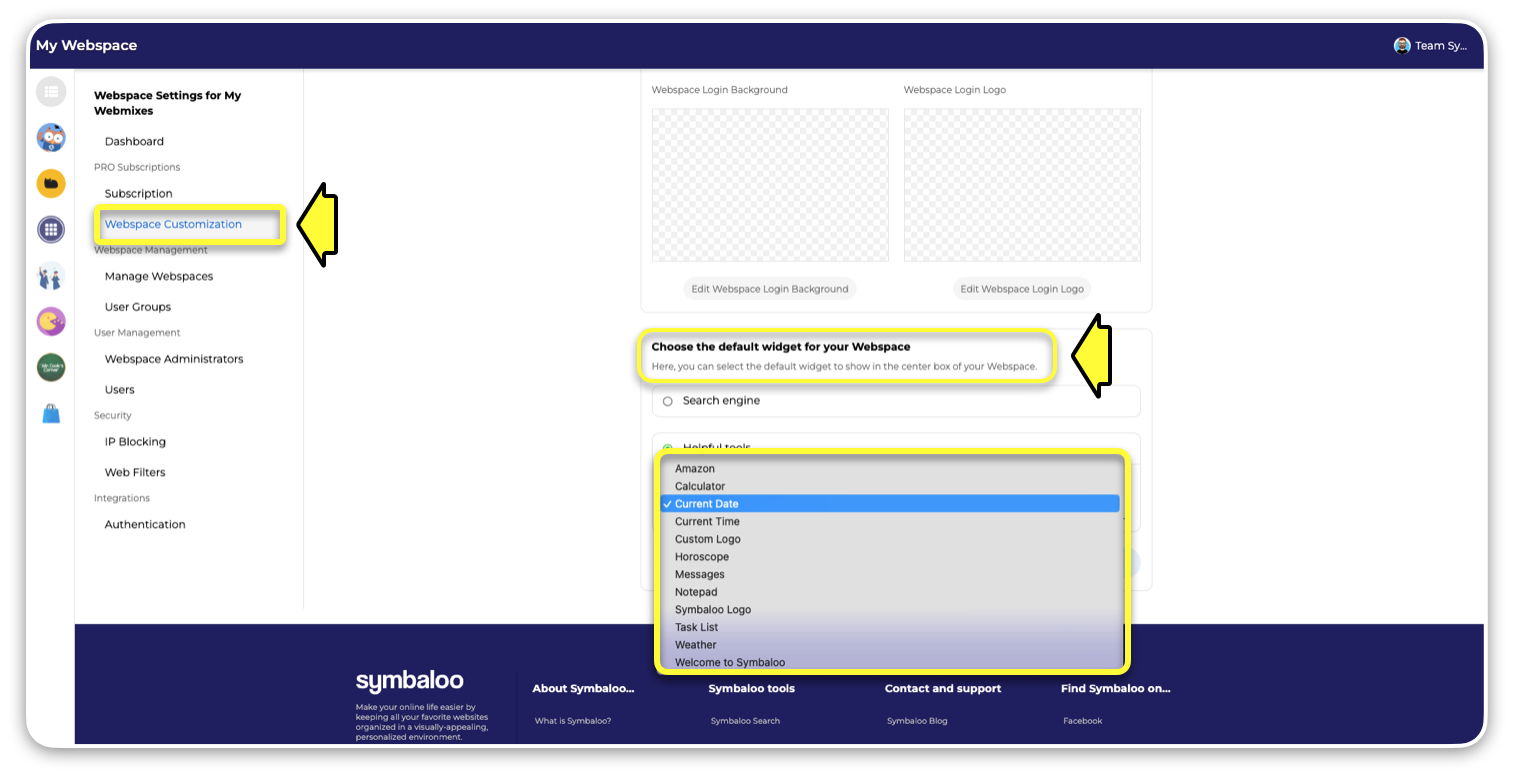 Related Articles

How to share a Symbaloo Webspace

Custom Webspace URL One of the main features of a Symbaloo Webspace is a custom URL you are able to create upon signing up for or connecting a new Webspace to your personal Symbaloo account. These Webspace URL's are truly powerful and easy to use - ...

How to publish a Webmix to a Webspace

Different than sharing a Webmix through an individual Webmix preview link, publishing a Webmix to a Webspace has a different, yet slightly similar process. How to publish a Webmix to a Webspace To publish a Webmix to your Webspace, simply select the ...

Change and update my account password

If you're looking to update or change your Symbaloo account password, please follow the steps below: Step 1: Start by clicking on the user profile icon on the right side of your page; In the drop-down menu, click Preferences. Step 2: In your account ...

How to change the center box in embedded Webmixes

Step 1: Start by sharing your Webmix (if you've done this, skip to Step 3) Step 2: you will be prompted with the Webmix share options. Please click on the "Embed" button Step 3: You will then see the embed code for your Webmix; Click the "Set Widget" ...

Differentiating Webspaces: My Symbaloo vs. my PRO Webspace

Finding "My Symbaloo" On the left side of the page, click on the notebook icon (depicted below) to access your Webmix menu: Upon opening your Webmix menu, you will see all the Webmixes in your "My Symbaloo." Clicking on any of these will direct you ...