How to Change the Icon/Image for a Tile
If you would like to change the icon/image associated with your tiles, begin by right-clicking on the tile you would like to change.

In the dropdown menu, select the "Edit" option (indicated in the image below) to access the tile editor.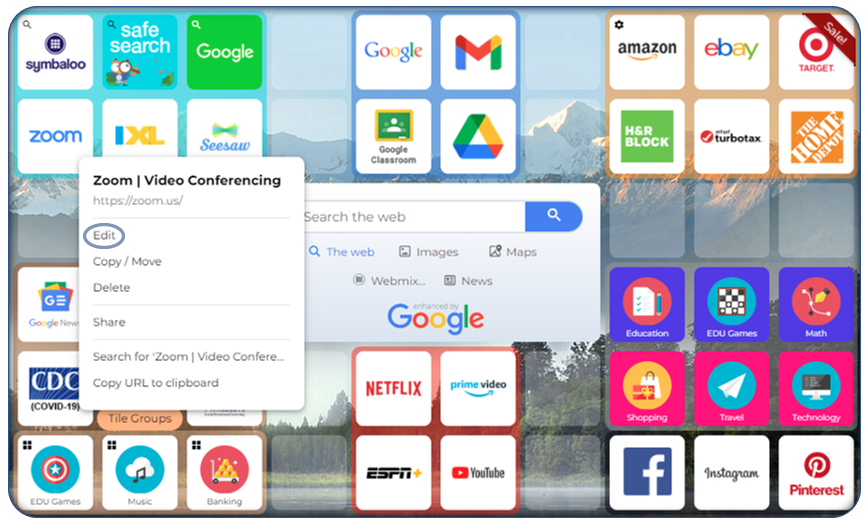 Scroll down in the tile editor and you should see a sub-section where you can choose an image or a symbol for the tile. You can then upload your own personalized image for the tile by selecting the "Upload an Image" button (indicated in the image below). Please remember your file can not be larger than 1MB.


Once you've uploaded your image, You do not have to click "Save" anymore!!!! Your changes will be saved automatically and You now have a personalized Symbaloo tile that is ready to use.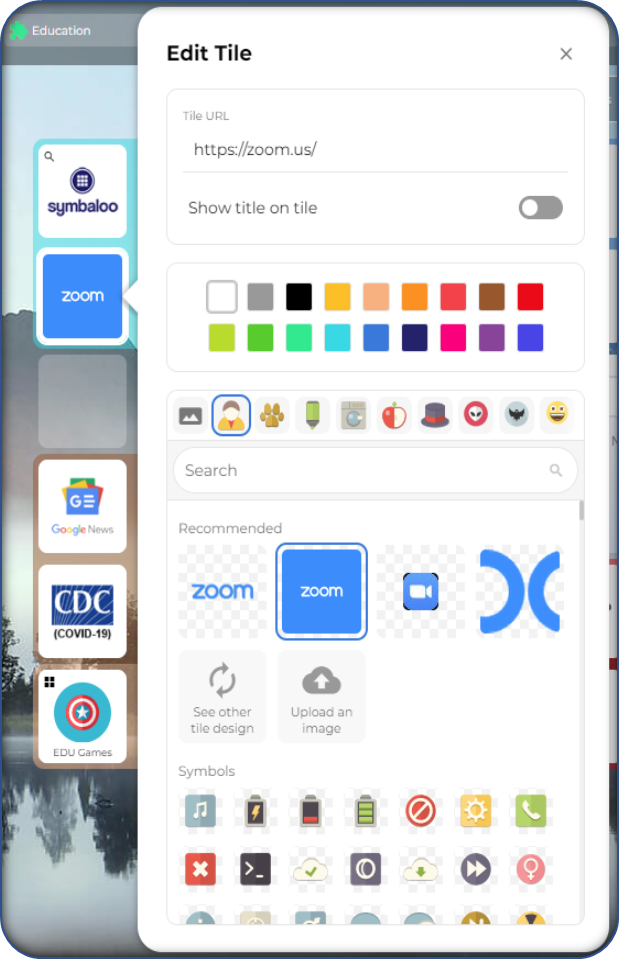 Related Articles

Change and update my account password

If you're looking to update or change your Symbaloo account password, please follow the steps below: Step 1: Start by clicking on the user profile icon on the right side of your page. Step 2: In the drop down menu, click preferences Step 3: In your ...

How to change the center box widget

Can I change the Google Search Box to something else? Yes! We offer a handful of options to update and change your current center widget. What are my center box options? We offer various widgets and search engine options. Some of the search engines ...

How to change your profile photo

Start by clicking on the profile icon. (Top right-hand corner) Next, in the drop-down menu, click on My Profile You should now see the Profile page. Click on the Edit Profile button. Finally, click on the profile photo icon and you will be ...

What is a tile?

A tile is what we call each individual square on a Symbaloo webmix. Each tile can be edited and linked to a website url, rss feed, widget, webmix, or embedded content. To learn more about tiles, please watch the video below:

My share icon is greyed out

For free users, if your share icon is greyed out or not allowing you to click it, this is because you have not verified your email address. Try verifying your email address by going to your account settings. For premium users, check out this ...