How to publish a Webmix to a Webspace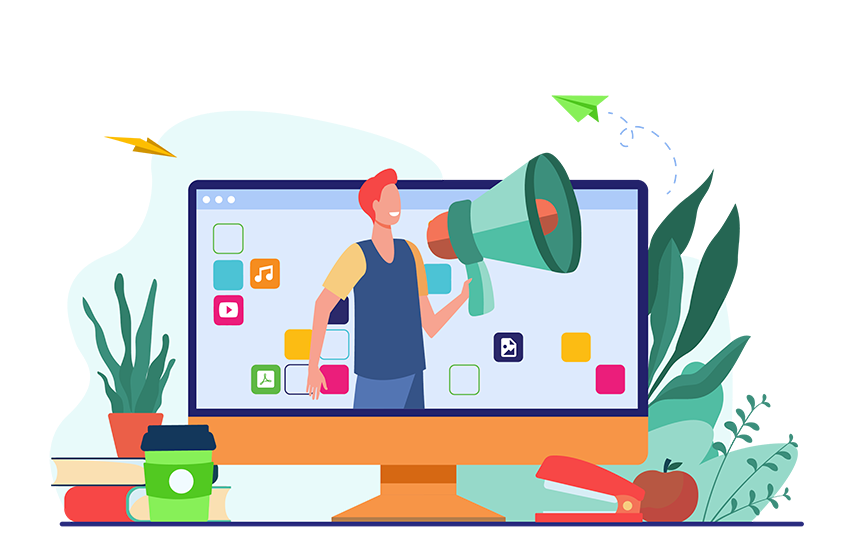 Start by clicking on the Webmix you would like to republish (in this example, we will choose the iPad Tutorials Webmix)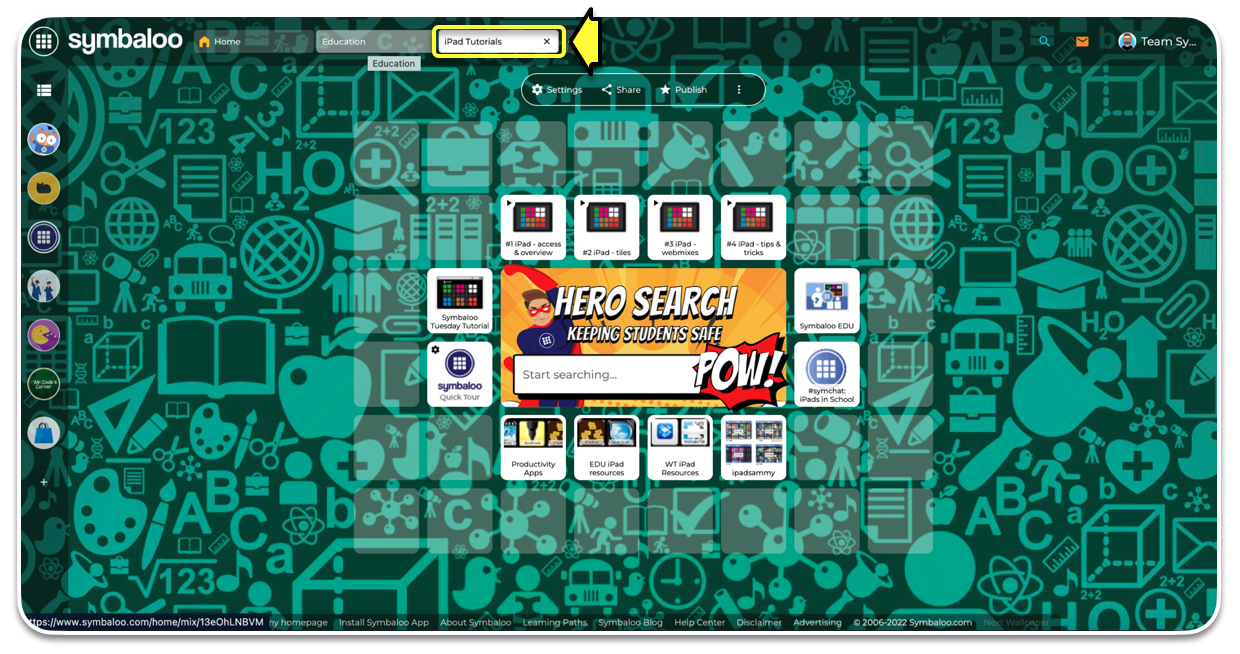 Next, click the
Publish
button towards the top center of the page above your Webmix; Turn on the toggle button until it shows that it is on; This will Publish the desired Webmix into
your PRO Webspace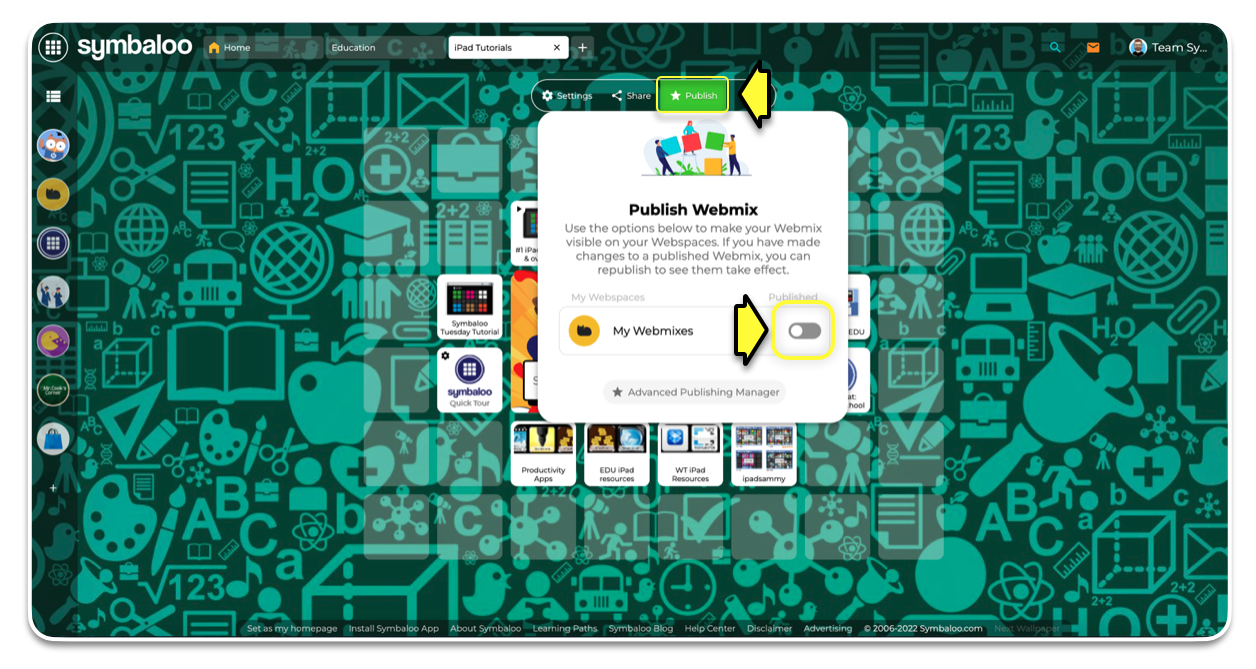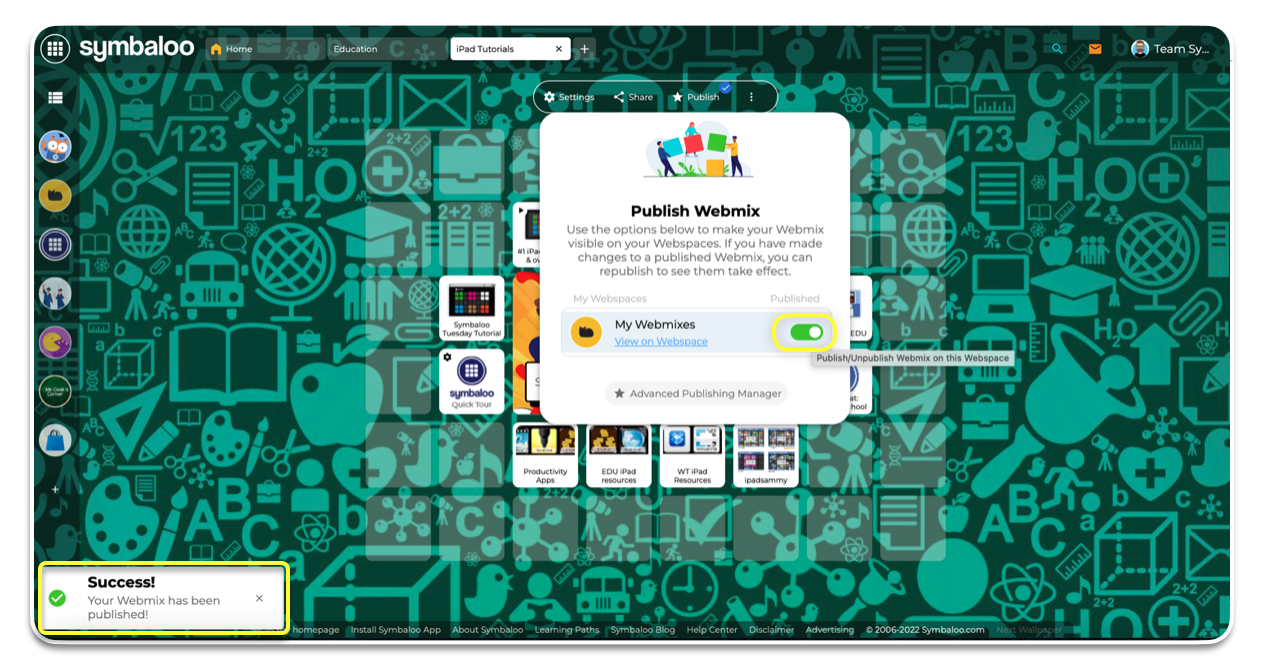 You've now successfully published a Webmix to your PRO Webspace!
Simply share your custom Webspace domain (
i.e:
yourclassroom.symbaoo.com/yourschool.symbaloo.com
) or have your students type in the custom URL in the browser address bar and they will
have access to any of the Webmixes you've published to your PRO Webspace.
Related Articles

How to reorganize Webmixes in your Webspace

Start by clicking the Publish button on any of your Webmixes (This is located in your main Symbaloo Page) Next, click on the "Advance Publishing Manager Button" After, that Drag and Drop the Webmix that you would like to re-order on your Webspace, ...

How to update Webmixes in a Symbaloo PRO Webspace

If your Webmix appears updated for yourself within your "My Symbaloo" main page but not on your PRO Webspace ( i.e. your custom domain - myworkspace.symbaloo.com), you must republish your Webmix to your Webspace to push out any changes you've made ...

I deleted my Webmix.....

If you clicked the "X" on a Webmix in the tab bar, you can recover it by clicking on the icon to the far left of the tab bar. In the My Webmixes sidebar, you can scroll through all of your Webmixes until you find the one you are missing. By clicking ...

How to remove Webmixes from your Webspace

Begin by choosing your Webspace from the navigation toolbar. Choose the Webspace with the Webmix that you wish to remove The Webmixes in your Webspace will now appear. Please click on the Webmix you would like to remove from your Webspace. In this ...

How to Create a Symbaloo PRO Webspace

If you are having trouble creating a Symbaloo PRO Webspace, please refer to the steps below to get started: Step 1: Click the button with your profile picture located on the top right corner of the screen Step 2: A drop-down will then appear. On this ...