How to update your webmix
If you are having issues with your webmixes not updating, not appearing correctly, or appearing different for different people, you must re-publish your webmix.

Step 1: To re-publish your webmix, click on the webmix you would like to re-publish. Click on the share button,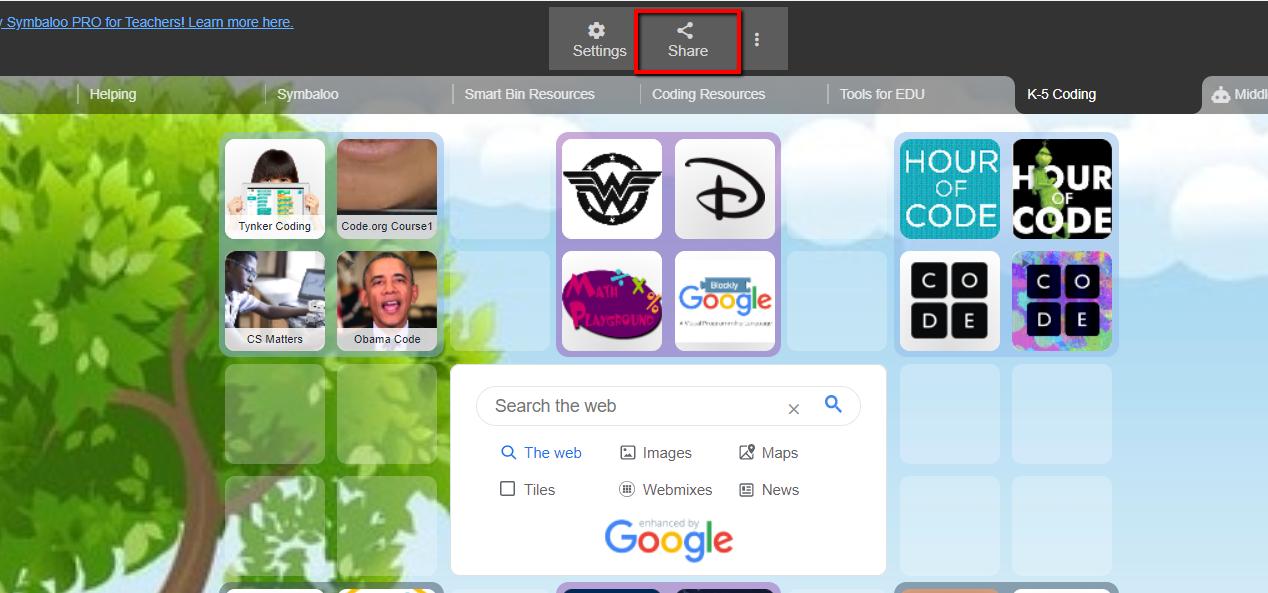 Step 2: click on "Update Webmix" button which is under the "webmix info and share options" button

Step 3: Voilà, your webmix has now been re-published! Any changes you have made will now be broadcasted to any users with your webmix share link!

Related Articles

Change and update my account password

If you're looking to update or change your Symbaloo account password, please follow the steps below: Step 1: Start by clicking on the user profile icon on the right side of your page. Step 2: In the drop down menu, click preferences Step 3: In your ...

How to unlock a webmix

If you see a small padlock icon next your webmix, it is locked and must be unlocked to gain editing rights. To unlock the webmix, click the "following" button near the top of the page You will then see the share side-menu appear. Please click on ...

My updates don't show on the webmix preview URL

Two reasons why the updates you made on your webmix are not showing up on the webmix preview URL: 1. You didn't click Update webmix in the Share menu of your webmix. 2. The updates you made or tiles you added are outside the 10x6 grid. The preview ...

My updates aren't showing on my embedded webmix

1. Click the share button at the top of the page for the webmix you've embedded. 2. Make sure to click republish/update button (boxed in red below) in the share menu. Once you have done so, you'll need to refresh the page on your website where you ...

Linking a tile to a Webmix - PRO Workspaces

Linking a tile to a webmix If you are having trouble linking tiles to a webmix, see the error message "permission denied" in the address bar URL, or have problems with your tiles linking to different Symbaloo pages with webmixes that are not yours, ...