Features and how to upgrade to Symbaloo PRO
Symbaloo is a visual bookmarking tool that allows you to organize and share your favorite online resources. You can access your resources from anywhere, on any device since everything is stored in the cloud.

Symbaloo PRO is built off of our regular Symbaloo version, however, it is an advanced solution that allows you to do much more compared to a regular account. With Symbaloo PRO, educators have more control over their content and resource management through features like:

1. Custom URL domain
2. Workspaces and groups

3. Real-time collaboration

4. User content restrictions

5. And more

To upgrade your regular account to a PRO account, simply click on the user icon at the top right of your page and select "Open a new PRO workspace". Follow the procedure and your new Workspace will be created.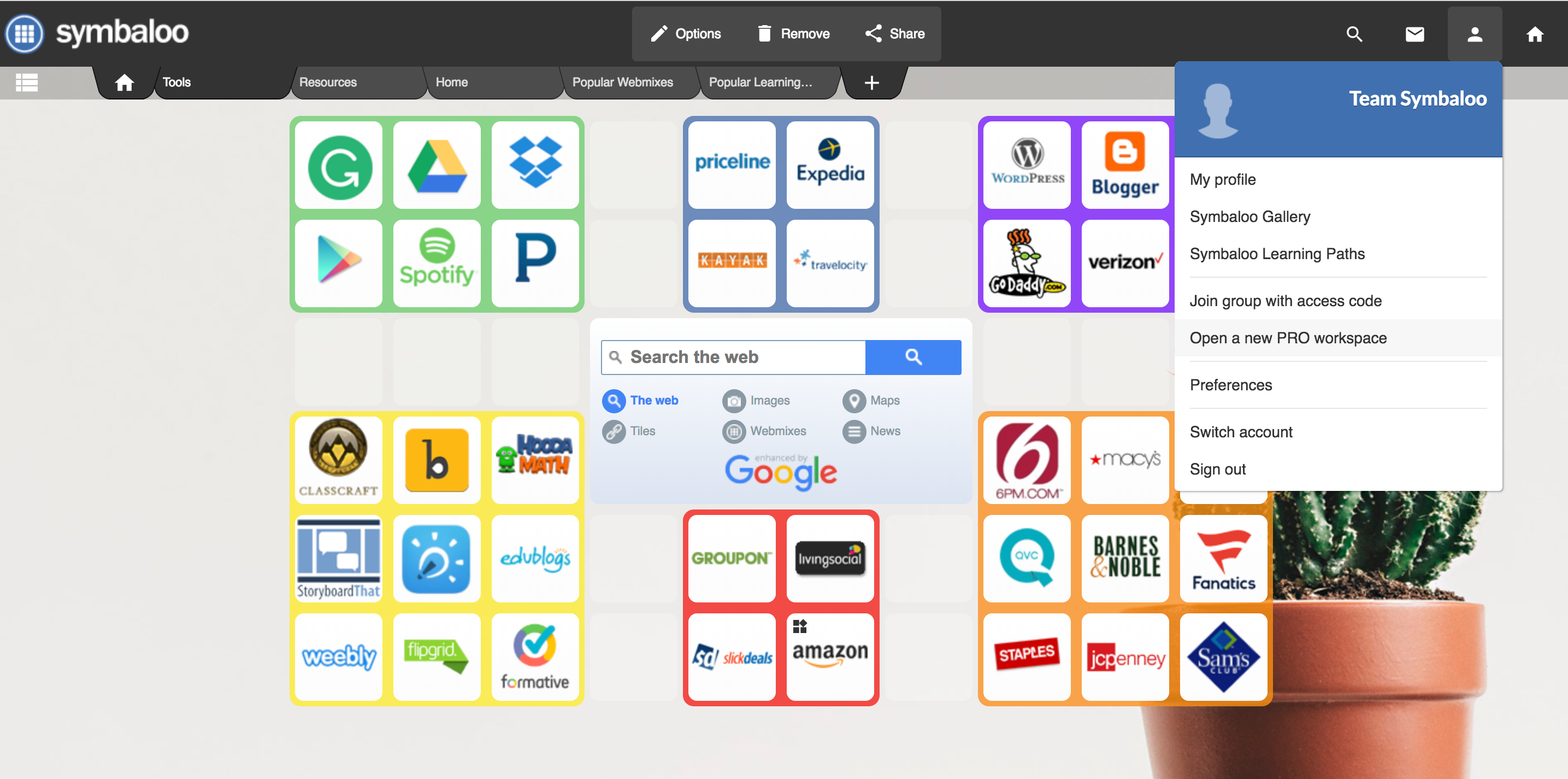 Next, choose the account type that is right for you.

Continue following the prompts and in no time, you will have a new Symbaloo PRO account!

____________________________________________________________________________________________
Symbaloo hosts weekly webinars each Wednesday from 4pm-5pm EST (1pm-2pm PST) to help users get started!

We'll cover the possibilities of Symbaloo in the classroom along with how-to's to help you get the best out of Symbaloo! Don't miss out and register today!
Related Articles

Symbaloo vs. Symbaloo PRO

Symbaloo offers two free options: a regular personal account and a Symbaloo PRO (ad-supported) workspace. A regular personal account allows you to create and manage an unlimited number of webmixes and tiles. With the regular version, you'll be able ...

What are the differences between the Symbaloo PRO subscriptions?

Symbaloo PRO Sponsored - Free for all educators and supported by advertisements from sponsors. Users are automatically assigned their own workspace domain. Symbaloo PRO for Teachers ($49/yr) - Ad-free, includes a custom workspace domain, and unlocks ...

Differentiating Workspaces: My Symbaloo vs. my PRO Workspace

Finding "My Symbaloo" On the left side of the page, click on the notebook icon (depicted below) to access your webmix menu: Upon opening your webmix menu, you will see all the webmixes in your "My Symbaloo". Clicking on any of these will direct you ...

How do I share within Symbaloo PRO?

There are 3 options to share within Symbaloo: Create a sharable link - create a public or private link that can be shared with anyone. This option can be used to share an individual webmix. Content that is shared publicly will be featured in the ...

How to Create a Symbaloo PRO Workspace

If you are having trouble creating a Symbaloo PRO workspace, please refer to the steps below to begin the creation process. Step 1: Click the button with your profile picture located on the top right corner of the screen Step 2: A drop-down menu ...