Linking a tile to a webmix
If you are having trouble linking tiles to a webmix, see the error message "permission denied" in the address bar URL, or have problems with your tiles linking to different Symbaloo pages with webmixes that are not yours, please follow the steps below to re-link or create a new webmix tile:

Say that you would like a tile to link to "school webmix" from a tile created in "classroom webmix".

1. You'll need to publish "school webmix" (In your case, the webmix you are going to link via a tile) from "My Symbaloo" to your PRO workspace in order to access the link needed to paste into our tile.

To learn how to publish a webmix to a workspace, please click
here
.
2. From your "My Symbaloo", open up your PRO workspace by clicking the drop-down sidebar button to the left of your webmix tabs. (You'll notice you are in "My Symbaloo" when you see the options/remove/share icons above your webmixes)

The drop-down list of webmixes will appear, showing your webmixes in "My Symbaloo" (where you edit and manage your webmixes and tiles) as well as your PRO workspace(s) underneath the webmixes in "My Symbaloo". Click on PRO workspace "District37" boxed in red (or your own personal PRO workspace in this case) to reach the link we'll be copying for the tile.
If there are no webmixes under the PRO workspace in your personal account, that means you haven't shared any webmixes and must complete Step #1 before moving forward.

3. You'll notice you're on your PRO workspace when you see the PRO URL in the address bar (ex: district37.symbaloo.com) and the options/remove/share buttons above your webmixes are gone. Now, click on the webmix tab for the webmix you'll be creating a tile for and copy the URL from the address bar (see below):
4. Now head back to your "My Symbaloo"(via the same method you accessed your PRO workspace in Step #2, only you click the "My Symbaloo" space) and click on an empty tile to create a tile in the "classroom webmix". (You can also right click on any existing tile to select "edit" and bring up the tile editor to re-link and update the URL.)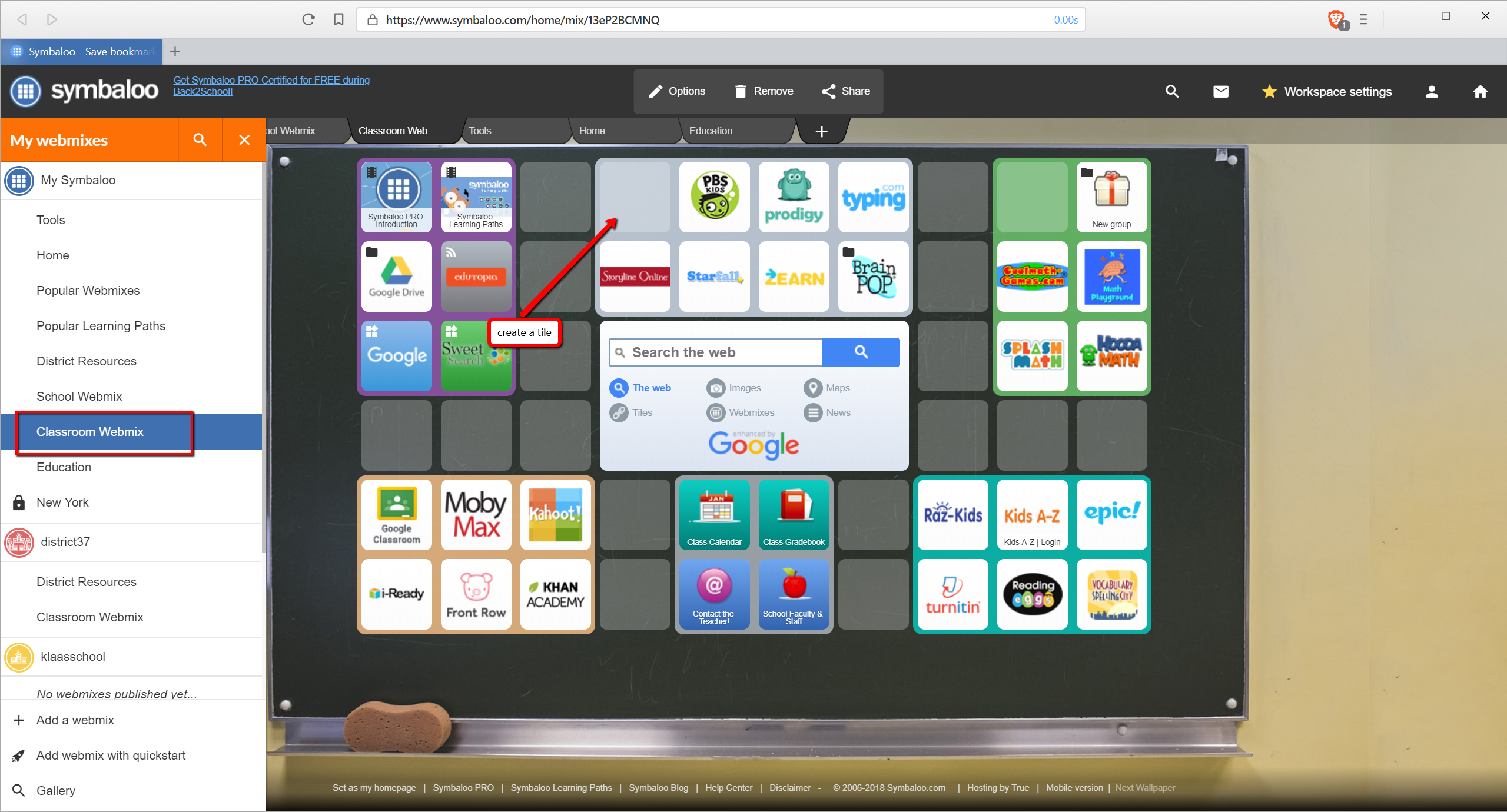 5. Once you've pasted or updated the link in the text field within the tile editor, click "save" to save your changes.
6. Make sure to publish the "classroom webmix" (in your case, the webmix with the tile you've just edited) to the PRO workspace if you've haven't done so (or re-publish if you've already published the workspace)
7. And that's it. The tile should now redirect to the correct webmix! Please refresh your browser for your PRO workspace to reflect the changes. You can also test the changes via an incognito or private browser by typing your PRO URL in the address bar (Ex: district37.symbaloo.com).