My share icon is greyed out
For free users, if your share icon is greyed out or not allowing you to click it, this is because you have not verified your email address. Try verifying your email address by going to your account settings.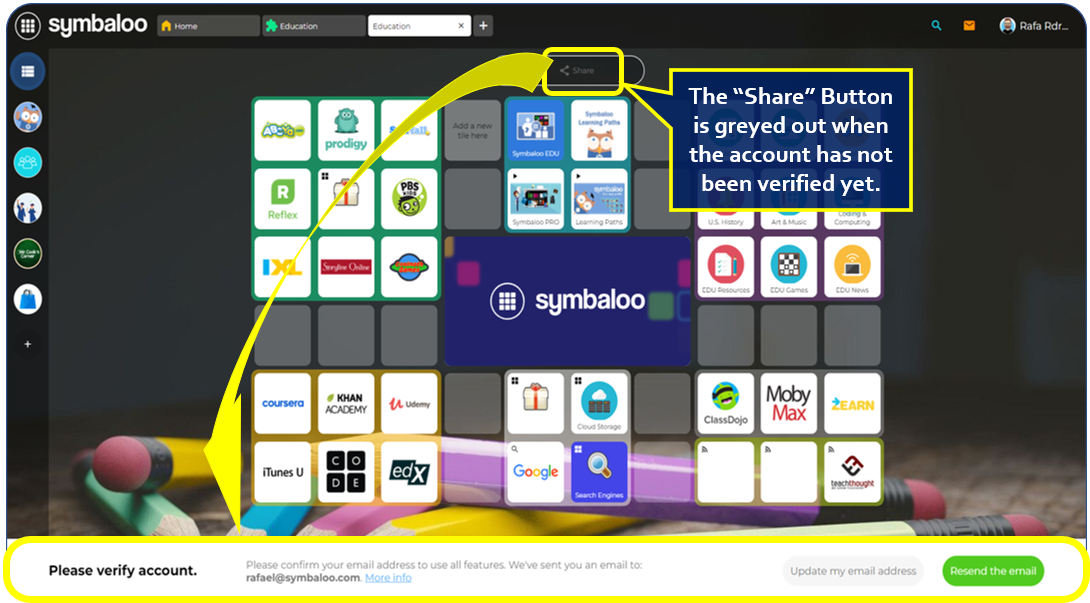 Important Note:

If you do not receive the verification email make sure to add the domain @Symbaloo.com to your safe senders list. This frequently happens with private email domains such as Private Schools and
Government domains, among many other domains.
Just remember the following tips:

THE EMAIL COULD BE IN YOUR SPAM FOLDER
Check your Spam folder for the missing email. If you find it, move it to your Inbox.
Marking email as Spam or Not Spam trains your SpamGuard to filter spam messages you define.
Good to know: Filters take priority over SpamGuard.

· THE SENDER COULD BE BLOCKED
Check your blocked address list to determine if the sender's address is on it. If it is, remove it from the blocked list.

· THE EMAIL COULD BE FILTERED
Check your filters to determine if an erroneous filter is sending the message to another folder.

· MAIL FORWARDING COULD BE ENABLED
If this is enabled, all of your incoming email could be sent to another email address, and nothing could be saved in your Inbox.
Check your Mail Forwarding settings to make sure it is not enabled.
Related Articles

Can I share one specific tile?

You can do this in a number of ways. If you wish to share just the link of the tile, right-click the tile and share it on either Twitter or Facebook. You could also share a specific tile by placing it on a Webmix and sharing it through our system. To ...

How do I share within Symbaloo PRO?

There are 3 options to share within Symbaloo: Create a sharable link - create a public or private link that can be shared with anyone. This option can be used to share an individual Webmix. Content that is shared publicly will be featured in the ...

How to Change the Icon/Image for a Tile

If you would like to change the icon/image associated with your tiles, begin by right-clicking on the tile you would like to change. In the dropdown menu, select the "Edit" option (indicated in the image below) to access the tile editor. Scroll ...

How Do I Share my PRO+ Account?

Custom Domain URL One of the main features of Symbaloo PRO+ is that you have your custom domain URL. You will want to share your custom URL rather than the individual link to the Webmixes. This ensures that there will be no ads on your webmixes or ...

How to share a Webmix - (non-Symbaloo PRO)

This sharing method is primarily for a regular Symbaloo account without a connected Webspace. Though you are also able to share a Webmix via this method on a PRO Webspace, this article shows how to share an individual Webmix. Step 1: Start by ...