Resize an embedded Webmix
If you are looking to change the size of your Webmix (bigger or smaller) on your blog or website, all you have to do is change the numbers in your embed code.
For example, your embed code will look similar to:
To change the size, change the numbers next to "Width=" and "Height="

Making the numbers larger will make the Webmix larger, and vice versa.
Note: If your embedded Webmix is being cut off and tiles are not shown, you may need to take additional steps. These may include but are not limited to: Removing a sidebar and changing the layout of your blog. If

you have resized your Webmix, and your Webmix is still cut off, please contact Support.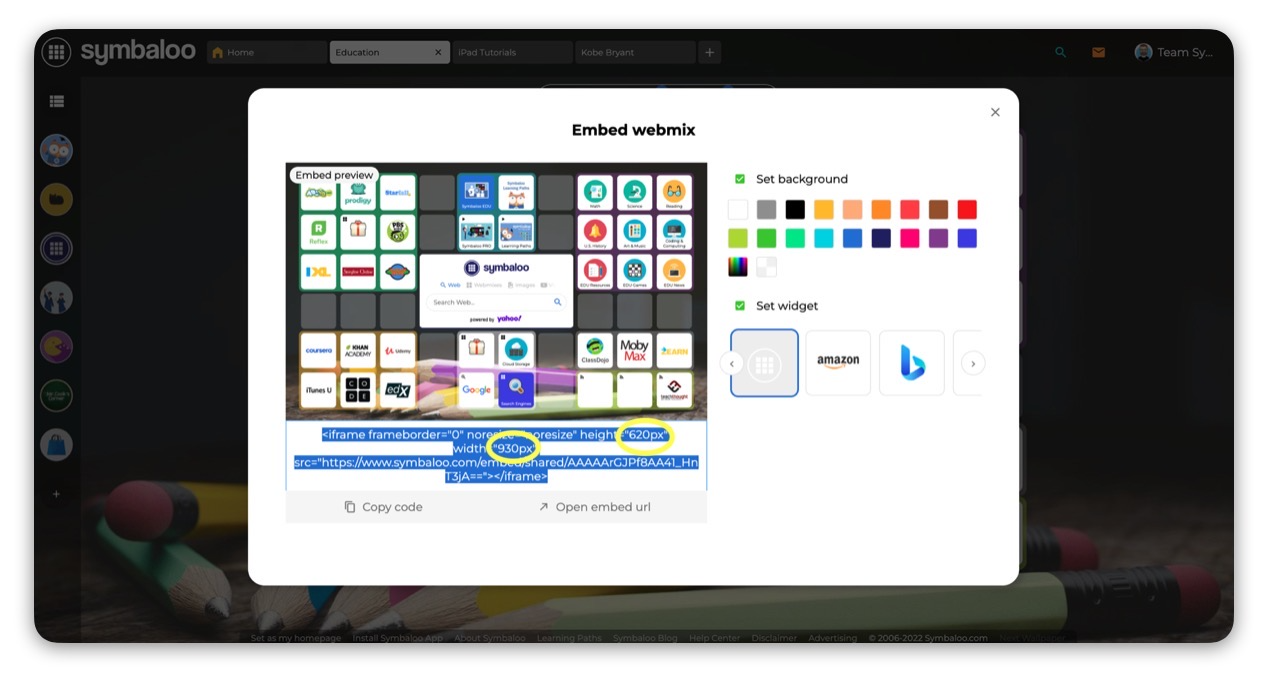 Related Articles

My updates aren't showing on my embedded webmix

1. Click the share button at the top of the page for the webmix you've embedded. 2. Make sure to click republish/update button (boxed in red below) in the share menu. Once you have done so, you'll need to refresh the page on your website where you ...

I deleted my Webmix.....

If you clicked the "X" on a Webmix in the tab bar, you can recover it by clicking on the icon to the far left of the tab bar. In the My Webmixes sidebar, you can scroll through all of your Webmixes until you find the one you are missing. By clicking ...

What is a Webmix?

A Webmix is a collection of Tiles for a specific subject. There are two types of Webmixes: Webmixes that contains Tiles (Links, Bookmarks, Widgets, Embedded content) Webmixes that contains RSS Tiles (Larger, 3x3 Tiles with RSS feed shown inside) ...

Can I add the link to the Webmix on class website or blog?

You can add the link to your Webmix on your website or blog. Share your Webmix and grab the URL (e.g., http://www.symbaloo.com/mix/tuesdaytutorial) from the Webmix Details.  You can embed your Webmix directly on to your site so that the students can ...

Webmix Search

If you've got too many Webmixes in your account and you are unable to find them, this is the perfect guide for you! To search for your Webmix, begin by clicking the small tab icon on the top left hand as illustrated below; Next, you will see a list ...