Did you lose your Tiles?

To ensure that your Tiles are kept safe, you will need a Symbaloo account.

Please create an account if you have not done so already. Then your Tiles will never be lost!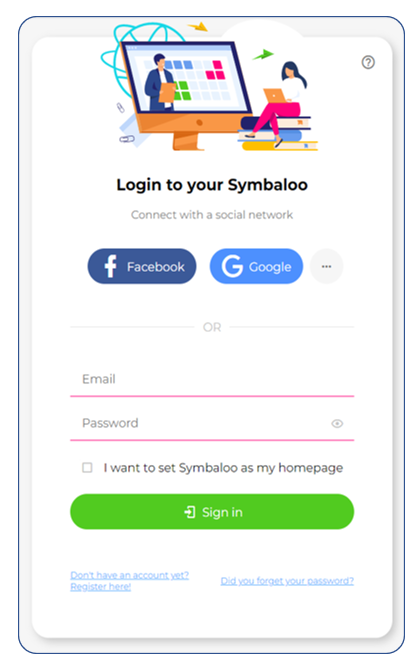 Do you need to log in to Symbaloo every time?


You might think that there is something wrong with the login function on Symbaloo that doesn't work, but this is not the case. The problem is that your computer's browser automatically deletes cookies on Symbaloo.

Check out these helpful tips below to stop your cookies from automatically being deleted:

As an internet browser, you probably use Google Chrome, Mozilla Firefox, Internet Explorer, Microsoft Edge or Safari.

Browsers can report cookies and passwords, but they should not be withheld for specific websites, such as Symbaloo. Click on the browser that you used for the correct steps.

It may be that you have installed an application that deletes cookies automatically to clean your computer.

Your anti-virus software

​Cleaners such as CCleaner

Do you have one of these programs installed? Check the program settings and turn off automatically delete cookies. You can also set Symbaloo as a trusted site in your anti-virus software.

Did you not complete power over your computer because there exists another administrator who has rights to make changes on your computer? Then it could be that the institutions of the administrator to tell your computer to automatically delete cookies.

Plug-ins can be viewed as extensions of your browser, which are made by others. Usually this is useful, but sometimes mistakes are in here. Go to the settings of your browser, look for the plug-ins (extensions), and deactivate them.

Can you automatically log-in now? If so, then one of the plug-ins was the culprit. Reactivate a few to find out which one may have been the issue, and then keep it disabled.

Do you think the above tips cause your automatic login problem?

Try to think logically about what may be the cause. Have you done anything in the past with your computer which may be a result? Are there certain system settings you've ever changed?

Try to specify the problem. Are you sure it is on your browser? Or to a particular program? Close as many possibilities. Try, for example, using another browser.

Use Google. Looking for help. Ask for help on online forums.

Was this post helpful?

Please let us know via the button below.

Please feel free to reach out if you need extra help; we would be happy to assist you.