What are the differences between the Symbaloo PRO subscriptions?
Symbaloo PRO Sponsored
- Free for all educators and supported by advertisements from sponsors. Users are automatically assigned their Webspace domain.
Symbaloo PRO for Schools
(starts at $499/yr) - Includes (1) school Webspace and (12) teacher Webspaces. Unlock security features and the ability to integrate with your SIS through OneRoster.
read more
Symbaloo PRO for Districts
(starts at $1799/yr) - Includes (1) district Webspace, (4) school Webspaces, and (48) teacher Webspaces. The perfect solution to bring your entire district together.
read more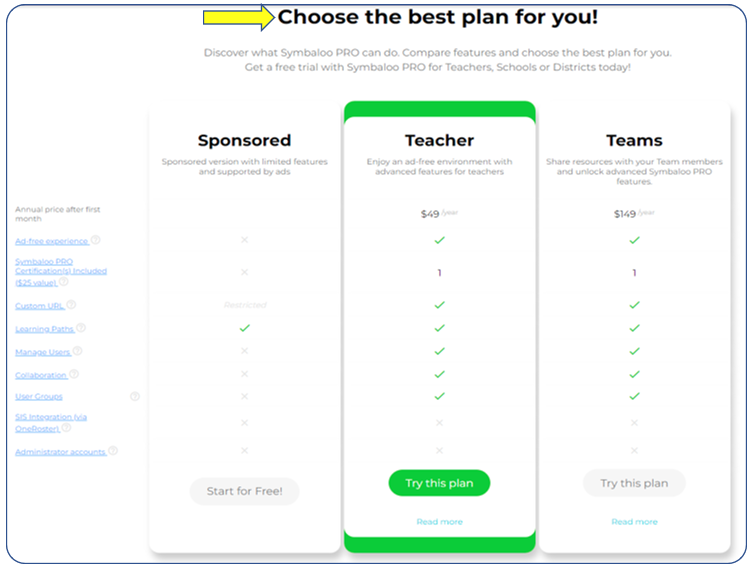 ____________________________________________________________________________________________

Related Articles

Symbaloo vs. Symbaloo PRO

Symbaloo offers two free options: a regular personal account and a Symbaloo PRO (ad-supported) Webspace. A regular personal account allows you to create and manage an unlimited number of Webmixes and Tiles. With the regular version, you'll be able to ...

Differentiating Workspaces: My Symbaloo vs. my PRO Webspace

Finding "My Symbaloo" On the left side of the page, click on the notebook icon (depicted below) to access your Webmix menu: Upon opening your Webmix menu, you will see all the Webmixes in your "My Symbaloo". Clicking on any of these will direct you ...

How to Pay for my PRO Account

I just created a PRO account; now what? When you create a PRO account, you have a 30-day free trial period before you are sent a payment request. If you'd like to pay immediately, please email accounting@symbaloo.com letting us know that you would ...

How to Create a Symbaloo PRO Workspace

If you are having trouble creating a Symbaloo PRO workspace, please refer to the steps below to begin the creation process. Step 1: Click the button with your profile picture located on the top right corner of the screen Step 2: A drop-down menu ...

What are the different types of users within a Symbaloo PRO account?

Administrator - Has access to manage settings, users, groups, and more within the assigned Webkspace. Collaborator (single Webmix access) - A user that has been granted access to edit a single Webmix. Updates appear in real-time. (Re-Publishing is ...